You'll Get Here An Amazing & Excited Way Of Mystrey Reveal In: Breathe InTo The Shadows Season 1 Episode 12 Story Explanation
At the end of Episode 11 we have seen that due to Kabir health issue he admitted on hospital. So he decide to investigation from hospital, where he found one thing is common in all victim, They all are linked with Nainital. So he decided to go Nainital. His health condition is not good so he didn't inform anyone. Will Kabir able to find the truth? To know all about that read Breathe InTo The Shadows Season 1 Episode 12 Story Explanation. Furthermore You Can Check Here Breathe : InTo The Shadows Web Series Review.
"Breathe InTo The Shadows Season 1 Episode 12 Story Explanation"
Now Kabir has reached Nainital. Where he 1st start his investigation from his school. But he didn't find any teacher there because the gap of many years new teachers has transferrd there. Finally he met with Avinash doctor, The doctor who revealed Avinash probleam in his childhood like he is suffering from Dissociative Identity disorder probleam. Where the doctor told Kabir everything about J and Avinash.
Now in the next scene of this episode Abha is getting ready for her hotel. Where she said bye to Avinash, But Avinash said her – don't go today please. Then Abha tell him I'll be come soon but I've to go now.
Now Abha is driving but suddenly she swing her mind and went back to home. When she reached home she find something change in Avinash behaviour, when Abha tried to talk him, She noticed his voice is sounded very heavily and he is saying to her – Why you didn't go your hotel? Abha got surprised to hear this words from Avinash mouth, because few minutes ago he was requesting to her dont go. But suddenly he changed his behaviour.
Abha reply him- Yaa I'm going. Now she have a little suspects on Avinash. She again tells him – I am going, and then she go from there.
After some time Avinash is also go from there, Abha was waiting for Avinash an outside the house. When Avinash start his car Abha start to follow him.
"Abha VS j" Breathe InTo The Shadows Season 1 Episode 12 Story Explanation
Now she is following Avinash car. Where Avinash stopped at that place where he put Siya and Gaytri. Abha is following Avinash, she is unaware from Avinash multiple disorder probleams. So she dont know this all has done by J, who lives in Avinash body and brain.
Finally Abha has seen her child Siya and after that she lost her sense and called Siya name loudly. Then J saw her, and he start to stop Abha and threatning her. She is confused and surprised to see Avinash like this. She is crying for her baby she pushed him and enter on that room where Siya and Gaytri. Abha hug's her daughter and cried very badly. Now they run from there, but J is following them.
"Finally Abha Meet To Siya"
They are running from there, suddenly she found Kabir in front of her. Where Kabir told Abha about Avinash multiple disorder probleam. Then they arrest Avinash.
In the next scene of this episode Abha seen in the court where Kabir tells lie to save Abha, Because Siya need a parents, and Avinash has admitted on central institute of mental health care.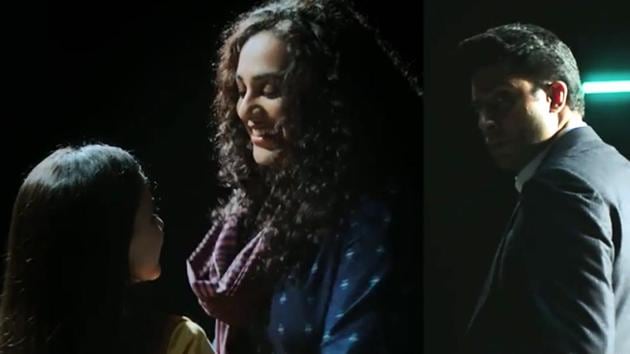 And The Season 1 End's Here.
Internal link – So here you can find latest web series explanation.