Scam 1992 The Harshad Mehta Series Story Characters, Starcast & Important Roles
Scam 1992 is an Indian web-series in Hindi-language. It is a true story of Indian stockbroker Harshad Mehta. Furthermore the story is based on 1992 scam of Indian Stock market. it is taken from the famous book The Scam: Who Won, who Lost, who Got Away written by journalist Sucheta Dalal and Debashish Basu's. Moreover for complete information about Scam 1992 The Harshad Mehta Story Series Characters, Starcast read the remaining article.
An additionally the web-series is directed by Hansal Mehta and Jai Mehta. Journalist Sucheta Dalal was a first person to publish the information about fraud done by Harshad Mehta.Furthermore the continous effort of Sucheta Dalal to investiate the scam made possible to come out this fraud in public. You can read Scam 1992 review also from this article Scam 1992 TV Series Review.
Scam 1992 The Harshad Mehta Series Story Characters, Starcast & Important Roles

Harshad Mehta (Pratik Gandhi)
Pratik Gandhi is playing the character of real life Harshad Mehta. His full name is Harshad Shanti lal Mehta. Harshand belongs to low middle class gujarati family. His first interest was cricket and he was a very good spin bowler. Everyone thought he would surely play in Ranji if not for India. He was not a good in study so he was spending his college life by playing cricket, garbha and in dreaming. Due to loss in his father's cloth bussiness, the family responsibilites of harshad increased a lot. In that time for running his house he did every small or big work. But his dream was to do something big and he knew that by these work he cann't fulfill his dream. He was living in the Ghatkopar Chawl with his family. They don't have enough space to live.
Harshad friend Jimmesh invested in share market and got good return. So he also thought to invest in share market. At that night his wife Joyti said one good line 'Risk hai toh Ishq hai' to him and it changed his thought and life completely. He then enterted in share market as a Jobber under the broker Amba Lal Saheb to take risk and fulfill his dreams. Then In the very short span of time he learnt everything about share market and he even started insider trading.
Scam 1992 – The Harshad Mehta
Now he decided to left his job where he earned only commission & the real money went to the broker and opened his own trading account. He also purchased a new house. He then start becoming bigger and bigger. His desire of earning money increased day by day. So choose every legal or illegal way to earn money. He became a king of share market in the 19's. Because of his money desire he did a biggest scam of stock market. For complete detail about scam please read the story of all episodes.
Sucheta Dalal (Shreya Dhanwanthary)
She is jounarlist in Times of India who disclosed the biggest scam done by Harshad Mehta.
Jyoti Mehta (Anjali Barot)
She was Harshad's wife and always supported Harshad in his all decisions.
Ashwin Mehta (Hemant Kher)
He is the brother of Harshad Mehta. He and harshad both worked together in share market bussiness. After the demise of Harshad Mehta he chaged his profession and became a lawyer.
Charcters of Scam 1992 – The Harshad Mehta TV Series
Shantilal Mehta (Ramakant Dayma)
He is the father of Harshad Mehta. He was in the clothing bussiness but somehow his bussiness failed and their family entered in big financial crisis.
Rasilaben Mehta (Kumkum Das)
She is the mother of Harshad Mehta. She had a full faith in Harshad that one day he will achieve all of his dreams.
Pranav Sheth (Jay Upadhyay)
He is also a trader in Share market.
Starcast of Scam 1992 TV Series
Chandraswami (Kartik Krishnan)
He was spiritual guru and became a mediator between Harshad Mehta and Narsimha Rao.
Deepika Mehta (Brinda Trivedi)
She was the wife of Harshad's brother Ashwin.
Debasish Basu (Faisal Rashid)
He was also a journalist and writer. He was friend of Sucheta Dalal. Later on he did a marriage with Sucheta Dalal.
He worked in Citi bank. He handled the money market bussiness of Citi bank.
Bhushan Bhatt (Chirag Vohra)
He was the Jobber under the Amba lal broker. Harshad then became a true friend of Harshad Mehta. He worked in the company of Harshad Mehta.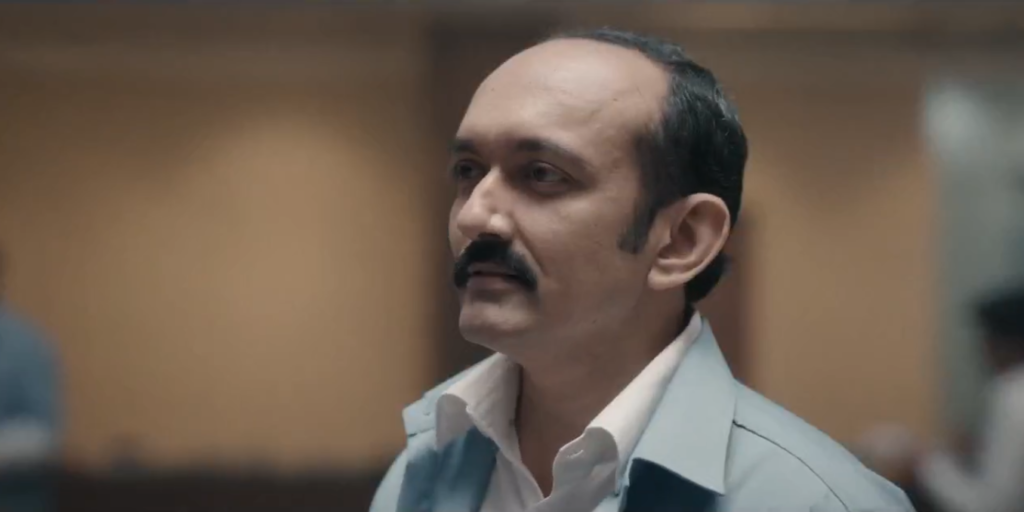 Sharad Bellary (Sharib Hashmi)
He was an employee of SBI. He told detail of scam happened in the SBI to Sucheta Dalal.
Manohar Pherwani (K. K. Raina)
He was the chairman of Unit Trust of India. He was the big bull of stock market. The UTI was famous for Institutional broking.
K Madhavan (Rajat Kapoor)
He was a reputed officer in CBI. He was working in the financial scam case of Harshad Mehta.
Manu Mundra (Satish Kaushik)
He was also broker in stockmarket. He was a biggest rival of Harshad Mehta.
S. Venkitaramanan (Anant Mahadevan)
He was the Governor of Reserve Bank of India.
He was the director of CBI.
Sitaraman (Jaimini Pathak)
He was the employee of SBI. Sitaraman gave money to Harshad Mehta without any Bank receipts. He directly involved in the fraud.
Ajay Kedia (Shadaab Khan)
He was a traditional stockbroker from kolkata. His family was in stock market and money market bussiness from a lot time ago.
M.N. Goiporia (Vivek Waswani)
He was the chairman of the State Bank of India.
Karamchand (Raghav Raj Kakker)
He was Sucheta's source of share market. He gave major information of Harshad Mehta to Sucheta.