Scam 1992: The Harshad Mehta Story Season 01 Episode 01 Story Explanation In English
Scam 1992 is an Indian web-series in Hindi-language. It is a true story of Indian stockbroker Harshad Mehta.Furthermore the story is based on 1992 scam of Indian Stock market.Moreover before reading the 1st epiosde of this season check all the major character of this season.In continuation of this article you will get very easy & detailed explanation of Scam 1992: The Harshad Mehta Story Season 01 Episode 01 Story Explanation.
Scam 1992: The Harshad Mehta Story Season 01 Episode 01 Story Explanation
"Risk Se Ishq"
The episode starts from the scene when the employe of SBI named Sharad Bellary comes in editor office to meet with journalist. when he meet's with journalist Sucheta Dalal , he give her some secret information about SBI. He told her –
500 crores are missing from the books of SBI. payment have been made without any BRs(Bank receipts)
Sucheta – Do you know who is behind this fraud?
Sharad Bellary – 'Harshad Mehta' maam .
"Harshad Mehta story" Scam 1992: The Harshad Mehta Story Season 01 Episode 01 Explanation
Harshad was weak in studies so he spent his college life playing cricket and dancing Garba. But due to his father's failed cloth business he got more reponsibilities. Harshad did many jobs, to help run the house . sometime he worked as a clerk for a 600 rupee salary furthermore at other times he tried selling plastic, cement , diamonds etc. But the money was never enough.Because Harshad dream were much bigger than his tiny small house.
An additionally Harshad wants to done something different for earn more money. So he decided to make money from share market. Then he told his brother named Ashwin Mehta he is serious aboout share market, if we do it we can make a lot of money.
Ashwin Mehta – Sure we can make money but its a risk.
Harshad – Risk is the spice of life.So now i have made up my mind.
How Harshad start his career in stock-market?
Next day Harshad goes to meet with Ambalal who is stock broker .
Harshad – Sir ! please hire me once, I'm like your son.
Ambalal – Okay. Our old jobber Bhushan will take you to the ring. He know the market very well. Let's see, if the door to your destiny opens in the market tomorrow.
Next day Harshad meets with Bhushan . Bhushan tells to Harshad, about market condition and the richest broker of the market like Manu Mundra & Pranav Seth etc.
Bhushan – Manu Mundra known as black cobra in the market. He is the biggest pessimist in the market. When the market is moving up, he pulls it back down. When the market falls, then Mannu Mundra gets a higher profit.So he is a bear.
Bhushan tells to Harshad – Pranav Seth he is an optimist. He is one of those who push the market upwards like a bull.
If you see a crowded spot, consider thats your area and thats where you will stay. The area with a small crowd assume that a slum.So keep your eyes , ears and mind wide open.If you dont strike deal your first day will be your last. After that Harshad starts his bit brokerage under Ambalal.
"Harshad New Plan" Scam 1992: The Harshad Mehta Story Season 01 Episode 01 Explanation
Harshad tells Bhushan – we cant work like this . we must gather such inside information too.
Bhushan – But this is a rich man's game. We cant play it.
Harshad – That's our probleam we never play the real game. We only watch the rich at play, and cheer for them. Why dont we enter the playground?
Next day Harshad meets with Doctor . who is doctor by profession but he is also the leader of all these unions. All final decisions are taken by him.
Doctor – What's your probleam?
Harshad – I'm Harshad Mehta . I work in the share market.
Doctor – so ?
Harshad – So the thing is, the relationship between the share market and union workers like a woman's relationship with her mother in law.So what i am trying to say is , the share price of the company increases when the production increases. So i just want to know what's going on in the factory, I mean daily production details.
Details regarding the increase in production ,impending strikes ,thats it. The market can be made to react with this insider information. Than i will give you a part of profit that i make from this. Doctor accept Harshad prposal.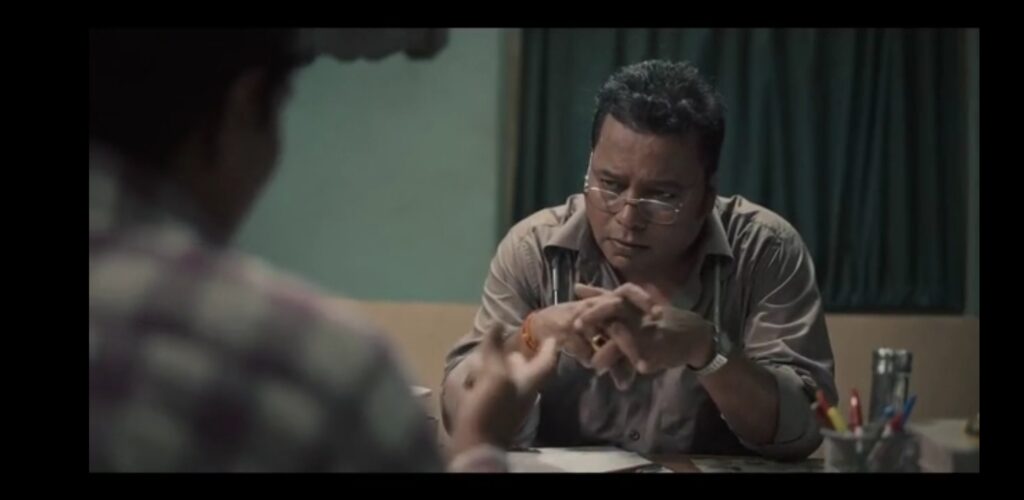 Whenever Harshad got inside information from any company he would target their stocks. If the information was negative he would offers those stocks at a low price.When the news come out, the stock prices should surge then Harshad would sell them. Irrespective of gain or loss for the company Harshad was minting profits sometime as a Bear and mostly as a Bull.
"Harshad Second Plan"
Harshad profits kept growing . But he tells to his friend Bhushan I want to open my trading accounts . So the name, the clients and profit all will be mine.
Bhushan – But what about this job?
Harshad – Do you think i was here to do a job? I was here to learn & i have learnt enough.
Now Harshad quit his job. He changed his tiny house . Now slowly-slowly Harshad condition is going better.
"Harshad invest in new company"
Harshad starts invest in Alwar Pharma company. Next day he meet's with Prnav Seth.
Harshad tells him- Prnav bhai can we talk for five minutes?
Prnav – Tell me very fast.
Harshad – Nobody, looks at the penny stocks. They are very easy to operate, & if we operate them properly, profit is guaranteed.
Prnav –Operate ? You want to operate stocks? Operating stocks is illegal, you will ends up in jail.
Harshad – Pranav bhai. just give it a try. Come to the ring today , you will see Alwar Pharma on the board.
In the next scene Harshad and his brother Ashwin get Alwar Pharma name in the ring board. After that prnav starts to beleive on them.
Prnav –Consequently prnav tells to Harshad, you were the tiger of the ring today.
Harshad –But i have two more stock's in mind. 1st -Blowcast. 2nd-India Gears.
Prnav – Done.
"1st Breakdown Of Harshad"
An additionaly suddenly market crashed.
Ashwin – Harshad ! we have lost 10lakhs. Furthermore someone changed the game in just half an hour. someone dumped 3.5lakh Reliance shares in the market .
Harshad – Who did this?
Ashwin – Ajay Kedia. So now everything is over!
And the episode ends here.