Patal Lok Season 1 Episode 2 Story Explanation In English –
At the end of Episode 1 we have seen that Imran Ansari and Hathi Ram find Vishal Tyagi criminal record. So in his criminal record they find that he have done – Kidnapping, ransom, extortion, and 45 murders. So why will they all want to kill Sanjeev Mehra? To know all about that read Patal Lok Season 1 Episode 2 Story Explanation In English. Furthermore watch Patal Lok web series in Amazon Prime.
"Patal Lok Season 1 Episode 2 Story Explanation In English"
"Lost and Found"
Here in the first scene Hathi Ram is in his house arguing with his son Sidharth Choudhary. Actually his son Siddu was not want in his admission in english school. Because he want his old friend circle group an his old school. So he always live in anger with his father. Meanwhile his brother in law comes there, Who said who is here for 3 to 4 days.
In the next scene Police are brutlly hitting Vishal Tyagi, and asking information of him. But he doesn't speak any single words. Furthermore lady constable is hitting Mary, and asking her why are you staying with these three guys.
Now Hathi Ram is investigating that hotel where they four lived. Hotel worker told to police – I overheard one of them arguing with someone on the phone, Its seemed like a fight. He said something like " I've been hearing this bullshit for three days I want to speak to master ji right now".
Now Hathi Ram goes to police station and again asking some information. So now Hathi Ram find that Kbir M is momdern and he is hiding his information and relegion.
Now Imran Ansari handle Kabir.M, he said to him – Tell us everything and I'll make you a prosecution witness. After that he get agree with Ansari request.
"Kabir Gives Some Information To Police"
Kabir.M – I don't all about them who they are.
Hathi Ram – Then who gave you work?
Kabir,M – Sir I got this job from Taariq.
Hathi Ram – who is a Tariq?
Kabir.M – He is a motor mechanic. i've nicked cars for him before.This time he said to me – Pick a car outside Delhi and then meet those three here at a hotel in Munirka. I had to stay with them for a couple of days, take them around, wherever they wanted to go. Then dispose off the car after the job.
Taariq has a garage in the motor market in the Chandni Chowk.
Now Ansari goes to chandni chowk for finding Taariq. But the worker said he has not came here since for two days.
Now Sanjeev Mehra comesin police station where Hathi Ram asked him – Sir these four guys, have you ever seen these four? Sanjeev looked them and told to police he dont know them and he is looking them in a first time.
Now Ansari find Taariq adress and then goes there. When Taariq found the police there he ran aways from there. Now Ansari inform to Hathi Ram, but Hathi Ram got angry with him and shout on him.
In the next scene Ansari told to Hathi Ram Sir I've got the owner's details of the house Tope Singh lived in. Then they both goes to find out Tope Singh's story. Now they go in that adress where they find Tope singh didn't work for his owner since six to seven month. Then Hathi Ram asked him – Who else can tell us more about Tope Singh? He reply – He was close to his uncle in the village, His father's brother. His name Mahipal Singh, pind havelian punjab.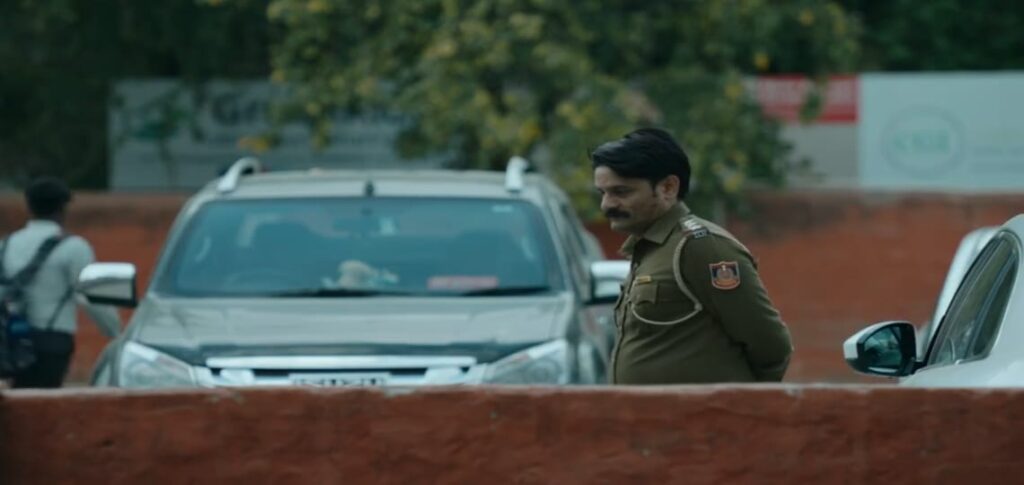 "Chitraakoot Vs Punjab" Patal Lok Season 1 Episode 2 Story Explanation In English
Now Hathi Ram decide to go Chitraakoot for taking history of Tyagi. Furthermore Ansari goes to decide Punjab for Tope Singh story.
And The Episode Ends Here.
Internal link – So here you can find latest web series explanation.