Scam 1992: The Harshad Mehta Story Season 01 Episode 06 Story Explanation In English
At the end of Episode 05 we have seen Tyagi and Ajay Kedia are trying to leak Harshad 500crore scam news. So what will Harshad next step ? To know all about that read Scam 1992: The Harshad Mehta Story Season 01 Episode 06 Story Explanation.
Scam 1992: The Harshad Mehta Story Season 01 Episode 06 Story Explanation
"Stop Press"
Now Sharad Bellary comes in Times Of India office and meets with Sucheta Dalal. Then He tells her – There is a huge problem at SBI. 500crores are missing from the books of SBI.
Then Sucheta ask – Do you know who is behind this fraud?
Sharad –Harshad Mehta.
When Sucheta offer him a cup of tea. Then Sharad run away from there.
Sucheta inform Debashish and tells him, do one thing please go to SBI and cross check.
Now Sucheta meets with Karamchand and tells him everything about Sharad. Then she ask him- SBI must have issued the cheques directly in Harshad's name. Isn't that illegal? Is it not wrong?
Karamchand- Such transaction work on trust. In business, trust is bigger than all legalities.
Sucheta – But how can they issue cheques directly in the name of broker?
Karamchand – Because sometimes, to save time, banks transfer money into the broker account. then its broker headach, how he gets them the best deals. Sharad must have been many such transaction between them in the past at lest 5 to 10thousand crore in his account.But this is the first time that the BRs don't exist
"Sucheta Calls Harshad" Scam 1992: The Harshad Mehta Story Season 01 Episode 06 Story Explanation
Sucheta calls Harshad- Hello Mr.Mehta. We've just been informed that you have failed to deliver securities worth 500crores to the SBI. Now they are demanding their money back. Would you care to comment?
Harshad – No. Because it's baseles, it's nonsense. It doesn't suit a journalist like you to fan such rumours.
Debashish gives information to Sucheta and tells her – Bellary seems to be telling the truth. Harshad has been regularly visting SBI, meetings are happening. Something seems to be brewing.
Sucheta – Harshad has messed with the system and misused it. Thats why he is repaying the money. How can he use it like his father's money. Used it whenever he wanted, earned profit on it and returned it.
Debashish –Do you think the people at SBI will speak about this?
Sucheta –This is why i am going to make sure the story comes out tonight.
"Now She Calls SBI Chairmen M.N.Goiporia"
Sucheta friends tells to her, you only have one hour before today's edition goes into printing. Otherwise your story will be dead.
Now she call directly to chairmen of SBI, Sucheta – Hello sir. This is Sucheta Dalal from Time Of India.
Goiporia – Yes, Ms Dalal, What can i do for you?
Then Sucheta –Sir is it true that Harshad Mehta defrauded SBI of 500 crores?
Goiporia – What? No i don't think this is true at all. Where do you get your information from?
Then she reply – Sir, i have a source.
Goiporia- Then your source must be misinformed. We have very heavy transactions and sometimes reconciliation is difficult. Sometime delayed. So i dont think you should blow this out of proportion at all.
"Now Sucheta Talks To Karamchand Again"
She tells him – I spoke to Goiporia directly but he denied it. I mean he is not going to admit anything. If Harshad has commited fraud, SBI is no saint either. Please do something.
Karamchand – I might know someone from SBI senior's management. Let me see if he can help us.
Sucheta –Please talk to him right away.
Karamchand – Okay. If he agree then i'll ask him to call you.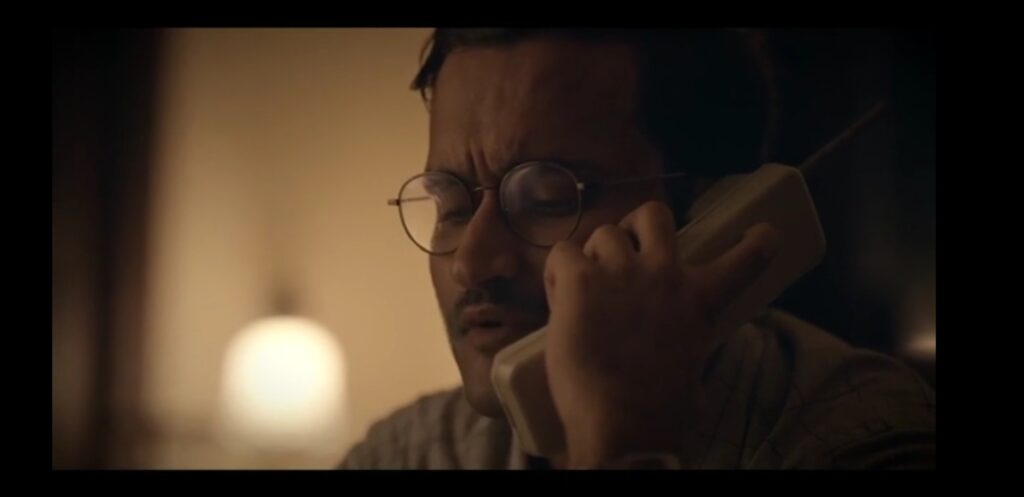 Then suddenly Sucheta phone ring's – Hello. Who's this?
[Man] – I work for SBI, I was told you wnated to speak to me.
Sucheta –Yes sir! I am writing a story. I just needed a confirmation from you, if a publish this story and it turns out to be a false alarm. Then i'll be in very serious trouble. I could even loss my job. I dont need any names, i dont even want the detail,but I just need to know if i can go ahead sir?
[Man] –Please go ahaed.
Now Sucehta start to print.
But next day Sucheta see the newspaper but her articles headline had changed. Harshad Mehta is not mentioned in this articles.
TOI employee -I changed it,
Sucheta – But why?
TOI employee– Because this was the safest option. This way we all are safe.
Sucheta – But you could have asked me once.
TOI employee– I discussed it with Rajdeep and Dileep sir.
And Then The Episode Ends Here.