Pushpa ; The Rise Movie Review and Ending Story Explanation In English-
Pushpa ; The Rise part-1 is a 2021 Indian Telugu Language Action Film. Movie main star is Allu Arjun, alongside Rashmika Mandanna. Altogether written and directed by Sukumar. Allu Arjun is playing role of Coolie, or smuggler. IMDB raiting is 8/10, and 92% people liked this. In this article get Pushpa The Rise Movie Review and Ending Story Explanation In English. Moreover here you'll getPushpa movies video explanation. –
The place in the world where we can find red Sandalwood is India. Surprisingly this plant doesn't grow, anywhere else than here on the earth. That is the reason why it costs so much. This red-Sandalwood is being smuggled abroad from India. The story isn't about Redsandal wood, it's about a labour who became a part of smuggling syndicate.
Now we see a truck, and police car is running behind the truck. Then we sees Pushpa's(Allu Arjun) entry, he's trying to bribe police. But police isn't not listening. When Pushpa says he'll pay one lakh per head, then Police stops their car. Then Pushpa distribute 1lakh rs to per cops.
Now story turn in Flashback 1 year ago –
Here we know Pushpa is a labor, and he can do anything for money. Keshav is Pushpa's friend, and people calls him Katlet. Now they've appointed for smuggling of red-sandalwood. Police is trying to find these smuggler who is delivering Red Sandalwood in abroad. Therefore Govindappa apointed in city to grab these smugglers.
Pushpa with other labours, are cutting trees, meanwhile Govind and his forces reached there.When Pushpa gets aware that police are searching them, then he quickly hide all chopped wood. Then Govind and his team unabled to find any clue. Later is disclose that Pushpa hanged all chopped woods in sandalwood tree.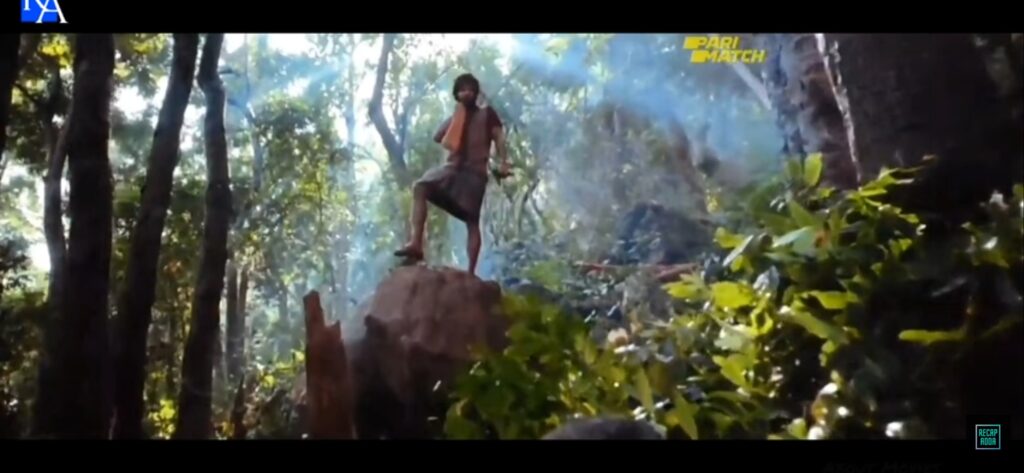 Pushpa ; The Rise Movie Review and Ending Story Explanation In English
Next day Govind again comes there, but this time he arranged his forces double & triple compratively as previous. Pushpa, with his loaded truck, try to escape from there. But police is after him, and then somehow Pushpa manage to hide truck and he reaches in front of Govind. Now Govind took him behind the bars, they kept turturing Pushpa, but he's not revealing where he hidden the loaded truck of Sandalwood.
Further in story 3 people introduces 1st is Jolly Reddy, 2nd is Jakka Reddy, and 3rd is Konda Reddy. Moreover Pushpa and all labours works for these Reddy brothers.
Konda reddy arrives at police station and says to Pushpa – " I heard that you didn't tell any cops whoose goods it is, even after police torturing you badly" Now Konda is asking where you hidden our goods? Then Pushpa says he need 5lakh Rs then he'll reveal where is sandalwood. Thereafter Konda gives him 5lakh Rs.
Now Pushpa buy a new van.
Konda is worrying about his business, because police is searching all vehicle on the way, then its difficult to transport Sandalwood.Then Pushpa share some idea, that how they can transport. Thereafter Konda, makes Pushpa incharge of woods smuggling.
Pushpa is hiding woods in milk tanks, and then crossing the check points.
In the next scene we sees that Pushpa likes a girl and her name is Srivali(Rashmika Mandanna). But Srivali doesn't think about Pushpa. Even she never gives him a look.
Pushpa ; The Rise Movie –
All konda gangs owner is Mangalam seenu. He comes to meet Konda, and asking for safe place where they can store the woods. Mangal decide to store all woods in Konda's godown, but they need a guy who can protect their goods. Then Konda speaks Pushpa name, that he's the only one man who can navigate the goods all through the 15checkpoints to the Chennai port.
Now Pushpa is asking Konda why we're dealing with Mangal. Mangal gave us 25lakh Rs, and he sells woods directly in 2crore. Why we can't sell it directly? Then Konda says him, go and ask Mangal.
Next day he reach in Mangal's house, and saying "you're earning 2crore directly from woods, So Mangal should pay them double money". But Mangal get disagree, therefore Pushpa threats from now he'll deal directly in Chennai.
In the next scene Sarvalli's father is kept torturing by konda's brother, Jolly reddy. Because he leaked some their secret. Now he's misbehaving with Sarvalli and asking her to stay a night with him. When Pushpa gets aware, he hit him very badly, and Jolly gets unconscious.
When Konda sees his brother like this. He goes with Pushpa in some secluded place,then there Konda tied Pushpa. Somwhow Pushpa release himself and then he killed everyone there.
After that MP who is indirectly involved in this scam, are decide that "Pushpa will manage the syndicate from now onwards. Everyone should sell their stock to Pushpa only". Six months has passed and Pushpa has grown too big, and the MP is also in his side.
Now new SP Bhawar Singh arrived in police station. Pushpa offer his marriage invitation to new SP, moreover he offered 1 crore Rs to him. But Bhawar Singh disrespect, Pushpa, and abused him.
Pushpa marriage date has came, and priest called for the bridegroom. Pushpa was not there, even his motorcycle was also not there. He is with Bhawar singh, and here he stripped Bhawar Singh clothes and made him stand stark naked. Pushpa says to Bhawar -If you go on the road like this, without a police uniform, even your dog wont recognise you. Because brand isn't in the clothes you wear, It is in your living.
After insult Bhawar Singh, Pushpa comes for his wedding.
And The Pushpa The Rise Part-1 Ends Here.