Panchayat Season 1 Ending Story Explanation (Episode 8) -You'll Get Here A Simplistic Insanely Way Of Story
At the end of Panchayat Season 1 Episode we have seen that Abhishek had attend his CAT exam. When he return to village he lock himself , he was sulking when he came in, seems like it didn't go well at all. So now he again lost the oportunity to go out from the village. Will he recover from his depression? To know all about that read Panchayat Season 1 Ending Story Explanation (Episode 8).
Panchayat Season 1 Ending Story Explanation (Episode 8)
"Jab Jaago Tabhi Savera"
Abhishek is not in a good mood even after two months of his CAT examination. Vikas is trying to refresh his mind. But Abhishek is shouting on him. Then late he apologize and feel sorry.
They are preparing banner for republic day. Prdhan ji and Prahlad are going to Fakauli market to buy new clothes for flag hosting ceremony on 26th january. Then Abhishek ask Vikas – Is Manju Devi not hoist the flag?
Vikas – No, Prdhan sir hoists the flag.
Abhishek –But technically Manju Devi should be hoist the flag. She is official Prdhan.
In the next scene of the Episode Abhishek goes to Prdhan ji house for taking thumb impression of Manju Devi in some document. Then Manju Devi taunts Abhishek for not cleared the CAT examination. Then Abhishek taunts back as Manju Devi I heard that you don't hoist the flag on 26th january. Even our neighbouring village Gopalpur has a female Prdhan and she hoists the flag and yes she also goes to the office. But its ok everyone has their own capability.
"Manju Devi Is Learning National Anthem"
Manju Devi is demanding for new saree from Prdhan ji. She is saying she want to hoist the flag of 26th january.
Then Prdhan ji told her – before that you need to learn National Anthem. How will you memorise it and who is going to help you?
Manju Devi – I'll memorise it.
Prdhan ji – But Rinky's visiting her grandma, and I've to go to Malkopur for two days with Rinky's picture. So I won't return before tomorrow evening. Then who'll memorise you National Anthem.
Manju Devi – I know someone who'll help me. You go to Malkopur But remember to bring a new saree for me on the way back.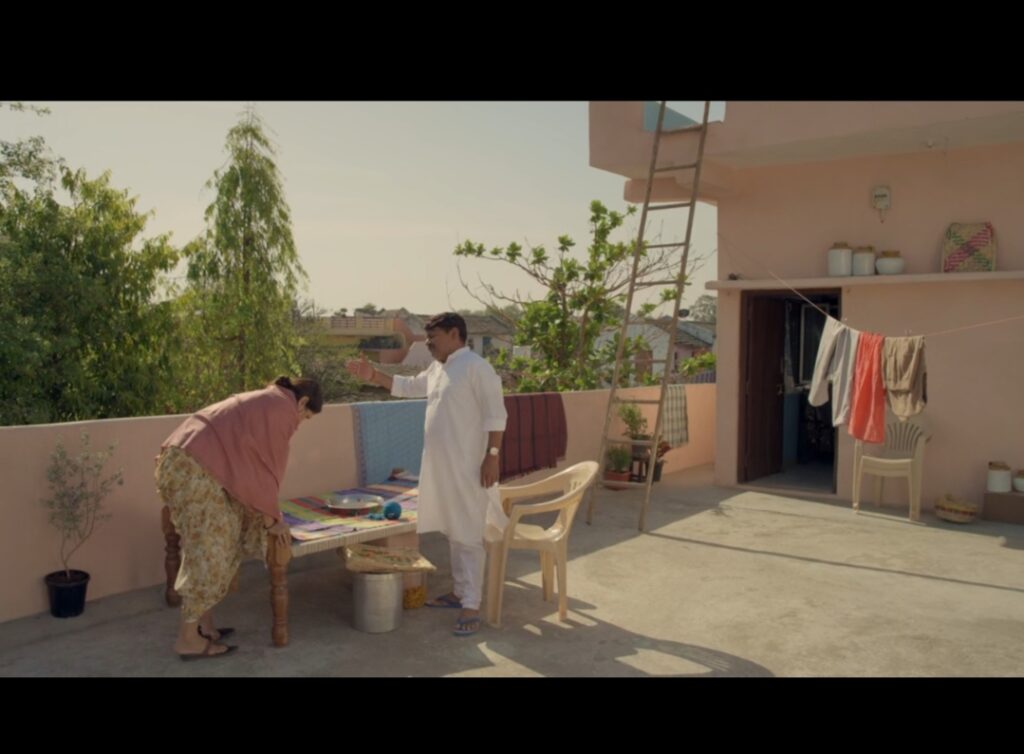 Now Manju Devi is taking help of Abhishek to learn the National Anthem. But she fails to remember the song. After that Abhishek shout on her – I must have explained to you at least two dozen times, and I've explained in the best way i could. So please now you see how you're going to manage this, I am leaving.
On the day of Republic day the District Magistrate notices the banner of Brij Bhushan as Pradhanji. Then she decided to inquiry of the village. When she find Brij Bhushan is ready to hoist the flag. Then she comes in Panchayat office. She order to take off the banner first.
DM – Where is Prdhan Manju Devi?
Prdhan ji – She must be on her way.
She shout on Prdhan ji and say get out of the office campus. Then she ask who is the secretary of the office? Abhishek reply her I am here ma'am.She tells to Abhishek – Don't you know this is wrong? The goverment is trying to eradicate the Prdhan's husband culture, doesn't that make a difference to you? Why didn't you lodge a complaint that Manju Devi's husband is handling the office instead of her.
Then she decides to suspend Abhishek from Panchayat secretary job.
"Manju Devi Hoist The Flag" Panchayat Season 1 Ending Story Explanation (Episode 8)
Suddenly Manju Devi arrives there. Then she ask to DM why are you suspending him?
DM – Because your husband was going to hoist the flag instead of you in his presence.
Manju Devi – Who told you that he was going to hoist the flag?
DM – I see from the way.
Manju devi – Women take time to get ready, and I hoist the flag every year
DM – Okay then hoist the flag and sing the National Anthem alone.
Finally Manju devi hosit the flag and sing the National Anthem. Then everyone celebrate the republic day.
After that Abhishek realised his mistake and decided to try one more year for the CAT examination. At last he climbs on the water tank where he meets with Rinky daughter of Prdhan ji. Abhishek ask her– Who are you? Then she reply – I am Rinky, village Prdhan daughter.
And This Season End's Here.