"Grahan" Season 1 Episode 6 story Explanation – "Tremendous Way Of Thriller"
At the end of Grahan Season 1 Episode 5 we have seen that, Amrita got many proofs against, her father. Altogether Guru is ready to speak truth in court against Chunu (Sunjay Singh). But Amrita is unaware from this, why her father betrayed her? To keep your continuity in the show read Grahan Season 1 Episode 6 story Explanation. Moreover click here to check Grahan web-series review.
Grahan Season 1 Episode 6 story Explanation.
Now Vikas see some images of Amrita, and this is Amrita's childhood picture, in which Amrita Rishi and Pragya. Meanwhile one guy come there, and he killed Guru. Furthermore Guru is in their custody, Amrita, Vikas and DIG knew this, then Amrita is thinking who's here, who know, that Guru was in our custody.
Vikas is going to meet Gautam, Gautam is the guy who was there, in Bokaro riots, and he was the police officer. Now Gautam is saying – At that time this was very difficult task to stopped riots. Because we got order from senior and politics, to ingnored what was going there. But one of our junior had tried many efforts to stopped Bokaro riots, and his name was Suresh.
Santosh was Suresh son, so that was, Santosh came Bocaro because he was preparing Chaurashi's riots report.
Now Vikas is saying to Amrita, that he doesn't want Amrita's presence in this case. Because she know everything about Rishi, but she didn't tell aanyone. Then Amrita is replying – She was surprised why her dad did this, and that is why she's finding the truth. Amrita is asking to Vikas – What do you do if you'll be in my situation? Then Vikas reply – If I'll be in your situation, then first I'll follow my duty be honestly.
In the next scene Amrita calls her fiance Kartik, and saying him to find Manu adress in Canada. Meanwhile Kartik find her adress and now he reach there. When he ask her about Bokaro riots and Rishi, But Manu didn't say anything. Then Manu said him to go from there, because she doesn't want to answer him.
Story Turn In flashback –
Rishi and Manu was planning to run from there, and Pragya is helping them. Meanwhile Manu saw her father quietly, where Manu's father borrowing in front of shopkeeper, but the shopkeeper is denying him to give anything. Then Manu said to Rishi, my father is in trouble so at this time I can't make him more sad. Then they cancel to escape from there.
Story Turn In present –
Now Sunjay again goes to Rishi house, and he know that Amrita is meeting with those people, who was present in Bokaro riot. Then Sunay told to Rishi, to take all case in your head, that you're the one who provoked people for riot.
Rishi is making a call to Amrita – where he's saying, whatever you heard about me, all was right. So now Rishi handover himself to police, that he was involved.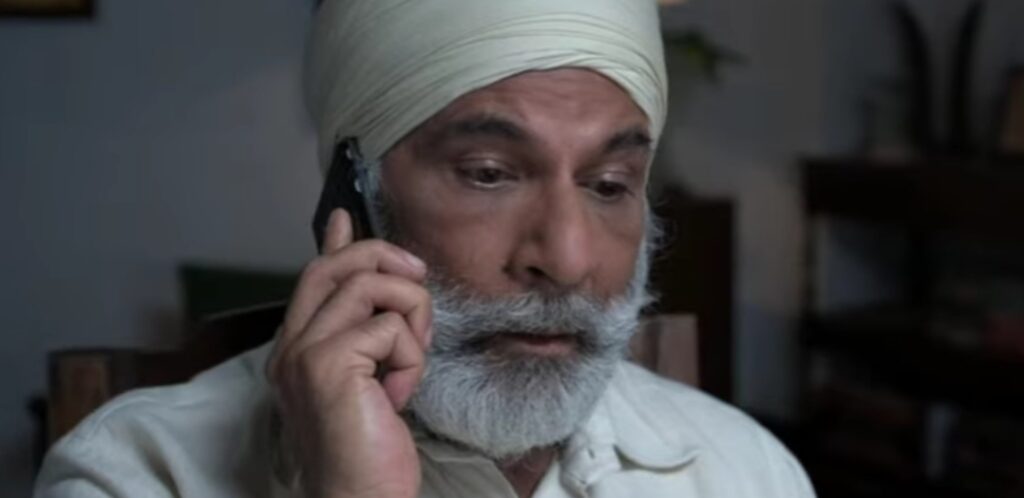 Amrita is watching this news on TV.
And The Episode 6 Ends Here.