"Sunflower" Season 1 Episode 4 Story Explanation – "A Tremendous Smug".
At the end of Sunflower Season 1 Episode 3 we have seen that Mr.Ahuja's fingerprints left in Straw. Furthermore police got this evidence. Moreover delivery boy saw, Sonu had injected Bromathalin, in sweets. When police asked him then he replied he used that sweets to caught a mouse in his house. To know more about the show read Sunflower Season 1 Episode 4 Story Explanation. Moreover click here to check Sunflower Zee5 Web-series review.
Sunflower Season 1 Episode 4 Story Explanation.
Now we see, Sonu and his some colleague, in office lift. Where Aanchal is asking to delivery boy, who sent that Pineapple flavor cake on my birthday? But Delivery boy didn't close the sender name.
Then Aanchal is waiting in caffe for that guy because she know he'll definitely come there for cake payment. But Sonu is aware that Aanchal is waiting, so he send his one colleague for payment.
Surprisingly Aanchal look at him, and she got impress with him. Sonu was thinking, if he go there, then Aanchal can shout on him, because she didn't like the cake. But he get the reverse result.
In the next scene Sonu in his office, is counting his company's new manufactured product. Meanwhile Sonu's one friend take one product from there. When Sonu again check that product, he forget his count, and in frustration Sonu, take one Lipstick with him. When he reach at home, he keep this Lippsick on bathroom.
Sonu's neighbor Gurleen is talking in phone call, with her father-in- law. Basically she's fighting with her father-in-law, because he didn't allow her, for singing. Meanwhile Sonu come there, and he take her phone and start to shout on them.
Moreover Gurleen's father-in-law get more angry, and he's a minister in Punjab, and he decide to trace Sonu's call.
Sonu's Mouse
After that Gurleen invite him in party, because Gurleen & Justina oragnise little party in her room. Now Gurleen introduced all with Sonu. After enjoy in party Justina's some friend go in Sonu's house. Where one girl used Sonu's washroom and she find a lipstick there, and she used lispstick after that she like that, and then she steal the lipstick.
Then we saw one died mouse, in Sonu's house found by justina's friend.
Next day when Sonu go in his office, he wear a tight jeans, to feel little bit comfortable he undress his jeans. Meanwhile one employee comes there, and he take his jeans with him. At the night when all employees go their home from office, he come out from changing room, and he saw a skirt there, and wear the skirt then he go in his room.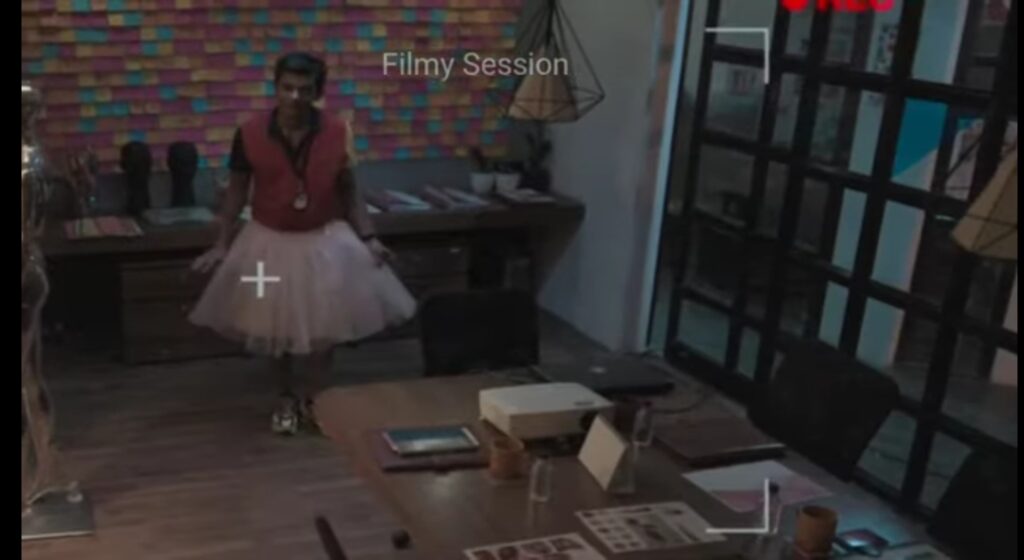 And The Episode 4 Ends Here.