At the end of Episode 08 we have seen CBI put Harshad in the bar. Then Harshad called Swami ji from the jail and then told him. If i go down i'll take everyone down with me. So now who will help Harshad in this situation? To know all about that read Scam 1992: The Harshad Mehta Story Season 01 Episode 09 Story.
Scam 1992: The Harshad Mehta Story Season 01 Episode 09 Story
"Ek Crore Ka Suitcase"
Harshad shoot a video before going to jail, he tells in his video– Only the rich can do business in this country because there are huge pitfalls along this road. A trader or a businessman can easily fall into them, its impossible to run a business on this road with honesty and hardwork. My relationship with Delhi is old and very deep. During the 1991 elections we gave a lot of donation to the party, and every one is aware of this, from the partys advisor to the PM. I am shooting this video so that, if something happens to me people should know who is behind it.
"Madhvan took Bhushan in his custody"
In the next scene Madhvan is threatning Bhushan and want to some clue against Harshad. But Bhushan is quite silent. After that Bhushan tells him Delhi is in Harshad pocket.
Madhvan – Ohh really! Then i will like to put all his Delhi member behind the bar too.
Bhushan – Would you put the PM?
After that Madhvan stop to threatning Bhushan.
Madhvan inform K.Das( director of CBI) – Harshad might have big political connections.One of Harshad men tells that the PM back of him.
K.Das – So you are going to raid 7RCR (Race cource road) now?
Madhvan – But sir we can start a primary enqiry.
K.Das – You need to slow down, Madhvan, let me think it through.
Madhvan – Okay sir.
Next day CBI director K.Das goes to meet Swami ji in Delhi –
Swami – Based on a statement made by a criminal or an accused CBI will question the PM of this country. Would that be apropriate?
K.Das – Swami ji, even if we explain this to Madhvan and stop him, this won't end here.
Swami – I think in this entire fraud, in this scam, every question should lead to only one answer – Harshad Mehta.
"K.das Arguments With Madhvan" Scam 1992: The Harshad Mehta Story Season 01 Episode 09 Story
Now K.Das is making understand to Madhvan -I really like the way you're dedicated towards this case & i also know that you are the best in our department.But please get this investigation back on the track. Don't make this political. You cant drag an innocent PM into this mess.
Madhvan want to find all this mess and the people behind this scam. But K.Das want to only investigate Harshad Mehta. Thats why they both argued with each other.
Then finally Madhvan tells to K.Das – I'll send you my resignation. Then think about that sir what you will tell the press, because that is going to be difficult.How are you going to explain to them why the investigating officer of this case was compelled to leave right in the middle of the investigation.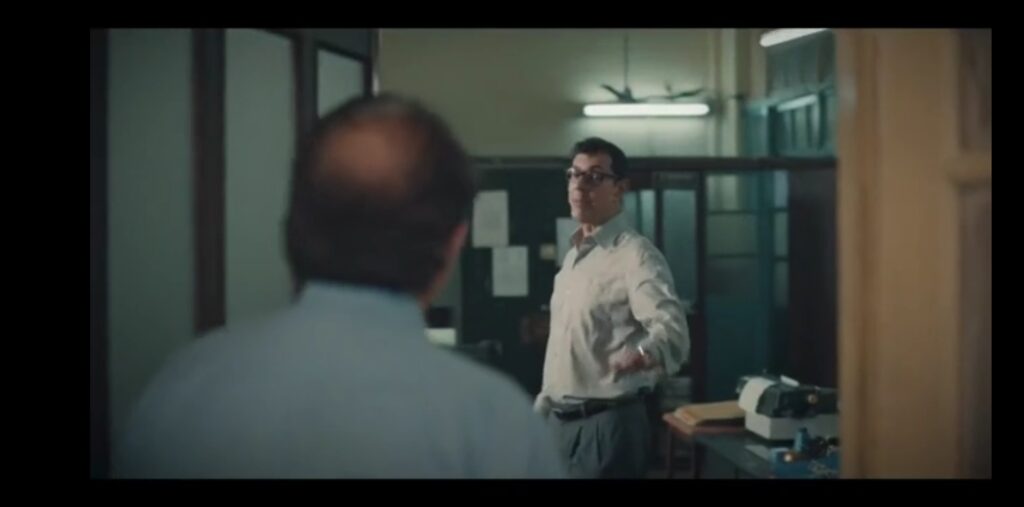 Now K.Das talk to Swami ji in a call and asking him – We can't keep Harshad locked up anymore. He's been in CID custody for five weeks. It can get tough to answer the court and the media. How much longer can we keep Harshad locked up?
Swami – Let it go then. If you cant lock him up physically, so be it at least you can tie him down mentally. Then remind him not to spread rumours about the PM.
"Harshad released from jail".
Next day Harshad released from jail.
Now the Harshad meeting take place in parliament and tells to everyone – I am willing to help the whole truth will be out. So i am ready to cooperate with all the investigative agencies. Now Harshad involve citi bank and other indians bank in this scam to find out all the truth.
Sucheta start to find clues about other bank who is involving in scam, like citi bank and all. When she find out any clue she print the news in Time Of India newspaper. Now CBI start to investigate all banks.
Ajay kedia offices and homes are being raided and CBI arrested him and now he's out on the bail. Tyagi has been promoted and moved to new york.
"Harshad Hire The Advocate"
Finally with the help of Prnav, Harshad hire a lawyer names Jethmalani.
Here Harshad lawyer tells him- If the police CBI whatever they ask you will not talk to them without consulting me.
Next day CBI again take Harshad in his custody to ask some question- In 1991, between 2nd and 4th november, you made some large withdrawls. 10 lakhs from Grindlays bank, 30lakh from SBI main branch, and two withdrawls in Delhi on 4th november for 45lakhs, what were you doing with so much cash?
Harshad – I don't remeber anything, these are very old transaction.
K.Das – Let me know if you remember.
Now Harshad lawyer Jethmalani write a letter to CBI chief Mr.K.Das – To Mr.K.Das, CBI chief, The cash withdrawls made by my client Mr.Harshad Mehta between 2nd and 4th november, 1991, about which CBI questioned him, are politically sensitive in nature. Mr.Mehta can disclose details regarding them, only if he gets immunity from political pesecution.
"News Goes Viral" Scam 1992: The Harshad Mehta Story Season 01 Episode 09 Story
Next days this news goes viral about Harshad have paid off someone very powerful in the goverment. Around one crores or something.
Next day Harshad hearing in court, Harshad lawyer give clean chit towards Harshad case and tells to everyone – Initiated and sustained by the goverment. The money of rupees one crores was paid to honourable PM- PV.Narsimha Rao. The suitcase and the money was left with Mr.Khandekar the personal assistant of the PM. At the PM suggestion people don't give any human name to scams. But if a human name is to be given to this scams, It's not the Harshad Mehta scam it's a PV.Narsimha Rao scam.
And The Episode Ends Here.