Scam 1992: The Harshad Mehta Story Season 01 Episode 08 Story Explanation In English
At the end of Episode 07 we have seen that the goverment has agreed to hand over the investigation to the CBI. An additionally it will headed by a top ranker officers. So now how Harshad will face all the probleams? To know all about that read Scam 1992: The Harshad Mehta Story Season 01 Episode 08 Story.
Scam 1992: The Harshad Mehta Story Season 01 Episode 08 Story
"Matadoor"
In the first scene of Episode Harshad is talking with Mr.Pherwani who is NHB bank chairmen. Because Harshad took 500crore from NHB bank to save himself from SBI fraud. Then Harshad tells him –
Sir, its just a matter of 15 days. After that in 15 days NHB will get its money back. Sir, the Delhi offer stands, it's Harshad's guarntee to you sir, you will get positioned in the parliament.
Mr.Pherwani – okay. But if anything goes wrong then my reputation of 40years for which i worked so hard will go down the drain.
Then next day Sucheta received a unknown call, the man in the call want to meet with Sucheta in personally. So Sucheta and Debashish goes to meet with that man they saw he is the governor of RBI.
S.Venkitaramanan – please come have a seat. Under immense pressure from the opposition in the parliament, the govt has finally decided to take more decisive steps to investigate the financial scam. The secret information is here as far as Mr.Pherwani is concerned but i can't do much.
Sucheta – Why you can't do much? Why are you telling us this? You are the governor of RBI you can talk to pherwani directly if you want.
S.Venkitaramanan – Pherwani is not a smalltime broker or an upstart like Harshad. He has a reputation. So i can't confront him directly.
Sucheta – But without any substantial proof or verification how can we print this news aggainst Mr.Pherwani?
S.Venkitaramanan – You could.
After that next day Sucheta print a news- NHB gave 500crores to Grindlays, so that Harshad could have access to the cash. Because there were no securities from Grindlays, so that is how Harshad managed to repay the cash to SBI.
"CBI Officer Mr.Madhvan Entry"
Next day Mr.Madhvan goes to Pherwani house. Madhvan start to ask question about 500crores.
Then Pherwani reply – We took securities from Grindlays. Then we paid Grindlays 500crores. Now how would i know Harshad Mehta's condition at the time? If Grindlays gave that money to Harshad how is that my fault? Why do i affect it?
Madhvan – Okay. But i just want to know where are those securities of 500crores that you received.
Pherwani – Not securities. It's BRs
Madhvan – Now you are saying it's not securities but BRs. For two hours, you have been on a loop, trying to confuse me.I'll see you again, this congregation is over.
Next day Madhvan goes to SBI office and ask to Khemani – You are incharge of treasury and investment management division. Yet you weren't aware that your subordinate were in cahoots with Harshad in such plunder?
Khemani – My job is to get the best deal for my employer. It's Sitaraman job to execute the actual transaction.If he tells me that he has received the delivery of securities then what can i do? I trusted him but he lied.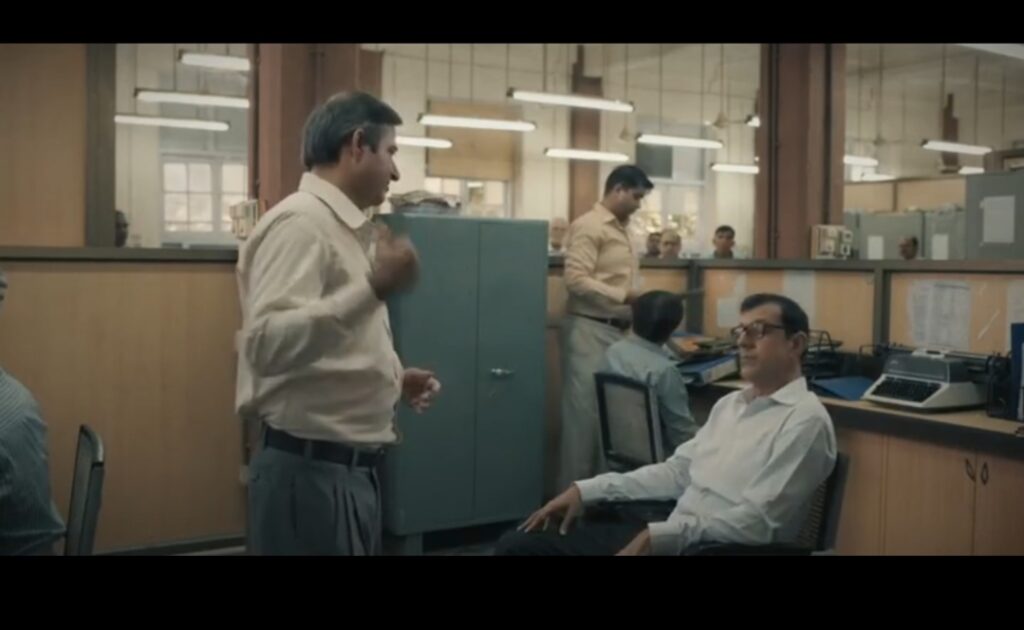 After that Madhvan meets to Sitaraman and ask him – All your senior are taking your name so tell me, i just want to know the names of all those who are involved. But sitaraman quite silent.
"Pherwani dead" Scam 1992: The Harshad Mehta Story Season 01 Episode 08 Story
Next day Sucheta gets a news Pherwani has died, and all member start to blame Sucheta. He was a fit guy, every morning he used to jog like a pro athlete. Can a person like him suffer a heartattack? For these all days, you all and the CBI pushed up his blood pressure. Then somewhere Sucheta realised she killed Mr.Pherwani and crying in front of Debashish.
Now Madhvan goes to Harshad house and tells him would you like to see your search warrent? Madhvan take Harshad and his brother Ashwin in CBI custody for 2weeks. After that CBI put Hrashad in a jail.
Harshad calls Swami ji – Hari om Swami ji. I am calling from jail, and this is the last chance for all of us, if i go down i'll take everyone down with me.
Swami ji –I'll have to discuss it with a few people.
Harshad – There is no time for that. Please convey my message directly to the PM.
Swami – Are you threatening the PM of the country?
Harshad – You are omniscient.
And The Episode Ends Here.