Panchayat Season 1 Episode 5 Story Explanation In English -You'll Get Here A Simplistic Insanely Way Of Story
At the end of Episode 04 we have scene that Abhishek is instructed by the BDO to put up family planning slogans.But after that  BDO calls Abhishek to tell him that the piles slogan is not mandatory. Then Abhishek asks Pradhan if he wants to reconsider his decision but the Pradhan, inspired by Sardar Patel says that his decision is final. Is he understanding the village culture slowly slowly? Hence to know all about that read Panchayat Season 1 Episode 5 Story Explanation In English
Panchayat Season 1 Episode 5 Story Explanation
"Computer Nahi Monitar"
Abhishek Frusteted by this type of life in village. So he decide to drink beer. Then he goes to beer shop, he drink alone. When he wake up next in the morning he found he forgets to lock the door of his room. Then he look in the office he find his monitor stolen from the panchayat office. Then he make a call for Prdhan ji and tell him full story about the last night.
Abhishek – I am sorry Prdhan ji. It was my mistake.
Prdhan – Today it was one monitor, tomorrow it can be several other things that can be stolen, there are so many important documents kept here. But it wouldn't make a difference to you. You'll just say sorry.
I won't tolerate this carelessness. So leave right now and find a room for yourself to stay. But before that go and lodge a complaint.
Aftr that Abhishek and Prhalad go to police station and lodge a complaint there. Then Abhishek decide to go market for find new room. Consequently Prhalad ask him where are you going? I think you took prdhan sir so seriously. Please let's go back to the village. You haven't eaten anything since morning.
Abhishek reply to Prhalad – I am in no mood to eat let's go straight to the village.
"Police Implicate Abhishek" Panchayat Season 1 Episode 5 Story Explanation
Police is asking some question to Abhishek – How many bottles of beer did you have that you forget to lock the door?
Abhishek – Two bottles.
Police – Was your monitor big one or slim one?
Abhishek – Slim one.
Then Police start to search Abhishek room, he find there his CAT books. Then police ask him- Why CAT?
Abhishek – Yes, Because i am preparing for MBA as well.
Police – So you want to more money in life. Anyway, do you drink every day?
Abhishek – I joined work for four months ago. Yesterday was my first time.
Then police goes to Prdhan ji house and tell him – How can he get drunk with only two bottles of beer? Then Prdhan ji ask him – What do you mean? Police reply – I mean alcohol can also be a reason to leave the door unlocked . May be the seretary steal the computer himself.
Prdhan – Why will the secretary steal the computer?
Police – For money. Thats why he is preparing for MBA to get more money in life.
"Prdhan Know That Abhishek Is Innocent"
Now police and Prdhan go to Panchayat office and again ask to Abhishek – . Why did you drink alcohol last night?
Abhishek – Becasue i was sulking.
Police – Why were you sulking?
Abhishek – What do you mean by why? why does anyone sulk? I was sulking that's it.
Police – See Prdhan sir, he have no answer. I am sure he steal the monitor.
Abhishek – I was sulking beacuse i follow the same routine every day. Wake up in the morning work all days, study at night. The villagers complain all day, then there's the electricity probleam at night. I am bored and yesterday was weekend and what was i doing peeling bottle guard. There is not a single guy around to talk to after work hours. I have no friend, no family, no social life. This village pathetic so i was in a bad mood thats why i got drunk.
Prdhan ji – Inspector he can be careless but not a thief. I know a man when i see once. please go.
That night, Pradhan arranges a party along with Prahlad and Vikas to cheer Abhishek up. Then Prdhan say Mr. Secretary, I am really offended by what you said, how can you say you have no family or friend here? Don't you think of us as friends? Now they all trying to make Abhishek happy and enjoying the party.
The next morning, Abhishek finds his stolen monitor returned, with a note saying the monitor was mistaken for a television.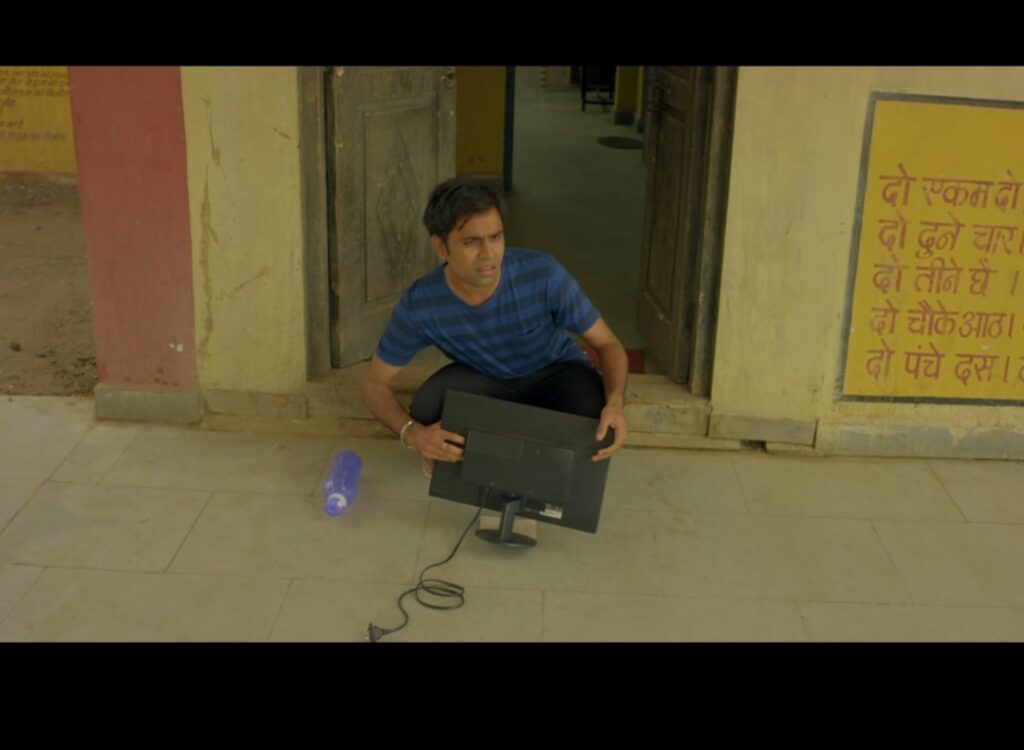 And The Episode End's Here.