Panchayat Season 1 Episode 3 Story Explanation In English -You'll Get Here A Simplistic Insanely Way Of Story
At the end of Panchayat Season 1 Episode 2 we have seen that how Abhishek find the truth of haunted tree. Moreover finally he installed the 13th solar light in front of his office. Is Abhishek is now happy to live there? To know all about that read Panchayat Season 1 Episode 3 Story Explanation In English.
Panchayat Season 1 Episode 3 Story Explanation In English
"Chakke Wali Kurshi"
Here in the first scene Abhishek is buying cushioned seat wheels chair. Because in plastic chair if he sit on it too long, his backsides heats up.
Next day Parmeshwar (village member) comes in Prdhan ji house. Then he tells to Prdhan ji i needed one small favour. My daughter wedding is tomorrow and today her in laws say that the groom wants a seprate room for waiting.
Prdhan ji – Don't worry. I'll be think of something. Then Prdhan ji make a call for Abhishek and ask him – could you adjust for one day?
Abhishek – I'am sorry sir I've to study at night, i'll get disturbed.
Then Abhishek disconnect the call, Parmeshwar ask to Prdhan ji – did he say no? Prdhan ji reply – No but he said he has a probleam, let's make some other arrangement.
Parmeshwar- Don't feel bad Prdhan ji but can i say something? I think you are losing your control over the Panchayat office now. Because of that cushioned wheel chair, anyone who sits on it thinks of himself as the boss.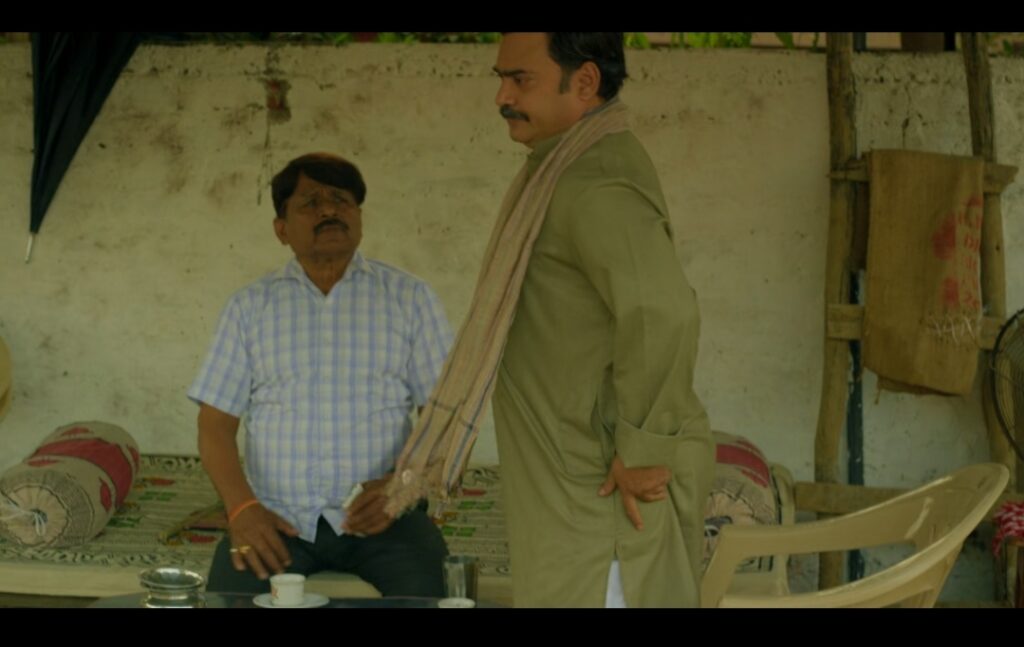 Next day Prdhan ji forcefully shift some goods of marriage in panchayat office at Abhishek rooms.
"Abhishek Anxious" Panchayat Season 1 Episode 3 Story Explanation In English
Abhishek say to Vikas what's wrong with Prdhan sir? Then vikas explain him Prdhan sir is our leader of sorts, he helps people in need to keep his influence, then let him work himself for that. This is the tradition and culture of the village.Abhishek is an anxiousing and reply him – You're free to follow their tradition, i am not their relative to work for them.
Suddenly Parmeshwar comes there he ask to both of them, Are they free to work?
Vikas- No ! Abhishek sir is going to Fakauli market. He want to sell his books and emergency light as well.
Parmeshwar – okay oaky then go.
Abhishek say to Vikas- couldn't you think of a better excuse. Now what will i do in Fakauli market?
Vikas – Sir i saved you from work, If you stay here, they'll ask you to do something or other.
Abhishek start his bike but suddenly Parmeshwar comes again and give him a work please get a 15litre canister of clarified butter from babloo sahu shop. He'll charge it to my account. Abhishek is looking in stress and he is doing all things forcefully. When he returned from market he found some guest in his office and room.
Parmeshwar again give him a work to take care of groom and his friend.
"Abhishek Fight With Groom"
Groom friend say to Abhishek– Listen, can you serve the snacks?
Abhishek – Just a minute, I'll be right there.
Groom friends tells to groom- This is humiliating, who makes the groom wait for the snacks? Then groom reply his friend- let him come. I'll deal with him.
Groom says to Abhishek – Hello mister ! keep the chairs outside. So we'll have the snacks outside. Abhishek keep the chairs outside the room. When they open the snacks box they discuss with each other and tells to Abhishek – There are only 5sweets, we have seen 7 sweets on box for guest. But for groom and his friend only five sweets.
Abhishek – Wait I'll be arrange in two minute.
Groom – If we had to wait the least you could do was give us a better chair to sit. Then Abhishek took his cushioned wheel chair for groom. When the groom sit on the chair he start to tear the plastic of chair.
Abhishek – Don't tear the plastic. But the groom again start to tear the plastic of chair and saying him this plastic sound is annoying. Then Abhishek reply him – This is my personal chair, if you like tearing the plastic then do it with the things you'll get in the dowry. Asshole.
Groom ask to his friend- What did he call me? check on your mobile.
Groom friend- Asshole means poop hole.
Groom – Call my father.
Ganesh father – How can anyone call the groom poop hole? Does my son look like an asshole, tell me?
Abhishek – You should check the meaning first it also mean stupid.
Prdhan ji- I admit that's wrong. He even called me stupid once.
Groom father – Then what did yo do?
Prdhan ji – I called him stupid as well.
Groom father – Fine then ganesh will call him stupid as well. Come on,say it son.
Groom – Okay but i want his chair as well.
Finally Ganesh say Abhishek ass hole and took his chair with him.
And The Episode End's Here.